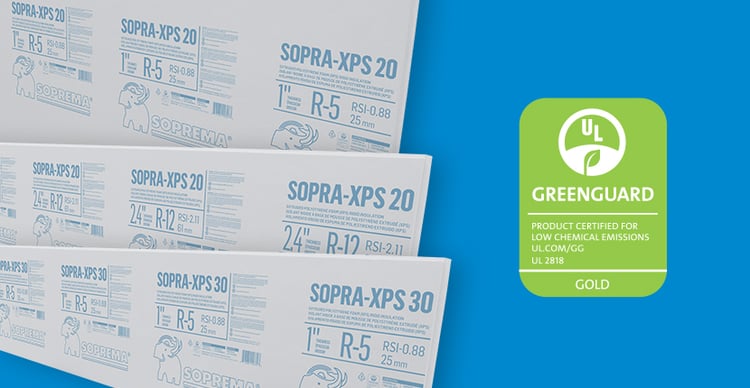 GREENGUARD GOLD-CERTIFIED HigH-PERFORMANCE INSULATION
SOPREMA SOPRA-XPS extruded polystyrene insulation is now GREENGUARD Gold certified.

WHAT IS GREENGUARD-GOLD CERTIFICATION?
GREENGUARD Gold certification includes very strict selection criteria and considers the most demanding safety factors for volatile organic compound (VOC) emissions. These requirements also include some sensitive groups of people (such as children and the elderly), and they ensure that a product is acceptable in high-risk environments, such as schools and healthcare facilities.
WHY IS IT IMPORTANT?
GREENGUARD Gold certified insulation is part of the solution for improving indoor air quality. Using materials that emit little or no VOC contributes to maintaining the comfort and quality of life of occupants, which then contributes positively to their health. In fact, it is exactly this kind of initiative that allows us to continue the discussion on sustainable development in the construction industry.
SOPREMA is proud to offer efficient insulation solutions for construction professionals that also meet the expectations of owners and end-users. GREENGUARD Gold is a certification that is difficult to obtain because the products must meet the stringent criteria of the California Department of Public Health (CDPH) Standard Method for VOC Emission. The compliance process, which lasts almost a year, is also carried out in collaboration with an independent third party.
THE MANUFACTURER WITH THE MOST GREENGUARD GOLD CERTIFIED INSULATION PRODUCTS
Seeking to be a reference point in various aspects of sustainable development, SOPREMA is the manufacturer that offers the most GREENGUARD Gold-certified insulation products in North America. Our three insulation lines, SOPRA-XPS, SOPRA-SPF and SOPRA-CELLULOSE, are all GREENGUARD Gold certified. It is now even easier for building designers to choose sustainable, environmentally-friendly materials that promote people's quality of life.
PRODUCTS THAT MEET LEED® V4 AND WELL CERTIFICATION REQUIREMENTS
In the fall of 2017, SOPREMA was the first to release independent third-party validated EPDs and HPDs. Following this logic, obtaining the GREENGUARD Gold certification was an essential initiative to complete, mainly to better meet the requirements of green building certifications such as LEED® v4 and WELL.
Investing in GREENGUARD Gold-certified products can contribute to obtaining credits according to the various LEED® v4 and WELL programs. Here is a summary of requirements for each of them:
LEED

®

V4
Criteria: Indoor environment quality – Low-emitting materials (1 to 3 credits)
This credit includes requirements for product manufacturing as well as project teams. It covers volatile organic compound (VOC) emissions in indoor air and the VOC content of materials, as well as the testing methods by which indoor VOC emissions are determined. Different materials must meet different requirements to be considered compliant with this credit.
To obtain the credits, comply with one of the options below.
Option 1. Product Category Calculations
Thresholds of compliance with emissions and content standards for seven categories of materials:
Interior paints and coatings applied on site
Interior adhesives and sealants applied on-site (including flooring adhesive)
Flooring
Composite wood
Ceilings, walls, thermal, and acoustic insulation

Threshold: 100%
Emissions and content requirements: general emissions evaluation, healthcare and schools only; additional insulation requirements

Furniture (include in calculations if part of scope of work)
Healthcare and school projects only: exterior applied products
Option 2. Budget Calculation Method
If some products in a category do not meet the criteria, project teams may use the budget calculation method.
Percentage of total
≥ 50% and < 70% = 1 credit
≥ 70% and < 90% = 2 credits
≥ 90% = 3 credits
The budget method organizes the building interior into five assemblies:
Flooring;
Ceilings;
Walls;
Thermal and acoustic insulation;
Furniture
Calculate the surface area of assembly layers based on the manufacturer's documentation for the application.
If 90% of an assembly meets the criteria, the system counts as 100% compliant. If less than 50% of an assembly meets the criteria, the assembly counts as 0% compliant.
WELL BUILDING STANDARDMC
Criteria: X10 Volatile Compound – Reduction (2 credits)
This WELL feature requires the restriction of hazardous VOCs and SVOCs, halogenated flame retardants (HFRs), urea-formaldehyde and select phthalates commonly used in building materials and products.
Management of Volatile Organic Compounds
The following requirements are met:
At a minimum, 20% by cost of the following newly installed components contain halogenated flame retardants at less than 100 ppm or the extent allowable by local code:

Furniture;
Window and waterproofing membranes, door and window frames, and siding;
Flooring, ceiling tiles and wall coverings;
Piping and electrical cables, conduits, and junction boxes;
Acoustic and thermal insulation;
Duct and pipe insulation.

At a minimum, 20% by cost of the following newly installed components contain urea formaldehyde at less than 100 ppm or the extent allowable by local code:
Composite wood products;
Laminating adhesives and resins;
Thermal insulation.
Note: Projects can disclose or report ingredients listed here using labels approved for use in Part 1: Promote Ingredient Disclosure in Feature X14: Material Transparency to earn points toward that feature.
Criteria: XX11 Long-Term Emission – Control (1 to 2 credits)
This WELL feature requires testing and adherence to emission thresholds for newly purchased furniture and furnishings, flooring and insulation. VOCs and semi-volatile organic compounds (SVOCs) have a wide range of health effects, from nose, eye and throat irritation, headaches, and nausea to liver, kidney and central-nervous-system damage. Some select VOCs and SVOCs are known or suspected carcinogens. While high levels of some VOCs are detectable by smell, others have no odor.
Solutions
Indoor sources of VOCs include materials and products such as interior furnishings, flooring, insulation, wallpapers, and composite wood products, among others. Unlike paints, adhesives, sealants and coatings, VOCs in furniture, flooring and insulation emit over a longer period of time. The use of building materials and furnishings with low-VOC emissions can help substantially improve indoor air quality, particularly over an extended period of time.
Impact
Restriction of source VOCs in building materials and products can limit their presence in indoor air and dust and help to mitigate exposure risks and health hazards.
Management of Flooring and Insulation Emissions (1 credit)
All newly installed flooring and thermal and acoustic insulation (excluding duct insulation) inside the building meet the following VOC emission thresholds:
California Department of Public Health (CDPH) Standard Method v.1.1-2010 or any more recent version.
Note: Wherever procurement of a product or a material type is not possible, the project is permitted to submit documentation demonstrating an attempt has been made; for each listed product or material type applicable to the project, a petition or formal request is filed with at minimum three manufacturers who were unable to meet its needs.
*The recycled content varies according to the compression range. The global recycled content is made of one part of post-consumer and pre-consumer content validated by CT Consultants and another part that accounts for the manufacturing recovery value. The specific details of the products covered by this validation can be found in the recycled content certificate available at www.soprema.us.